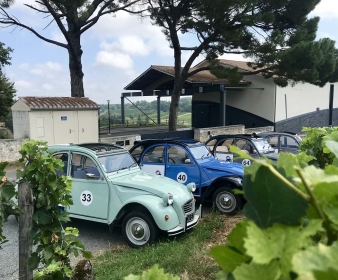 Découvrez notre "Rallye Evasion à Saint Emilion"
Un rallye que vous finirez avec des souvenirs pleins les yeux et les papill...
Discover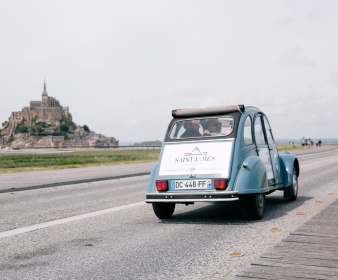 130 years of Saint James!
Cap on Mont Saint Michel to celebrate 130 years of Saint James! What could be...
Discover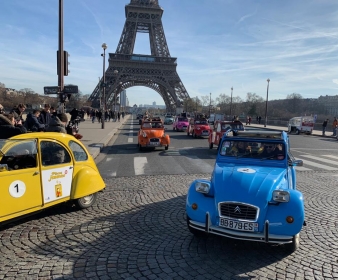 Pieces jaunes : a 2Cv parade for 30 years!
When Pieces Jaunes celebrate their 30 years, our entire fleet is abuzz! Partn...
Discover
Our clients
They trust us
«Balade exceptionnelle ! Merci et Bravo à Arjan, accompagnateur très agréable !»
«Excellent ! Knowledgeable, personable, accomodating, great trip !»
«Merci Nathan ! Super tour de Paris, découverte de très beaux lieux, discussion sympa tout du long, un excellent moment !»
«We are very happy with our tour ! The driver Yannick is most helpful, knowledgeable and friendly ! Very informative and enjoyable.»
«Inoubliable pour notre séjour à Paris ! Robert a été un guide parfait et nous a fait profiter de son expérience et de ses anecdotes. Merci ! On recommandera et on recommencera !»
«Excellent service, very knowledgeable ! Vincent took extra special care of us and our requests ! Thank you !»
«Superbe moment très agréable ! Yannick ponctue le trajet avec une multitude d'anecdotes. moment très sympa, on ne voit pas le temps passer. A refaire, bravo et MERCI !»
«Super circuit ! Un chauffeur très sympa, qui nous a fait découvrir le Paris comme on l'aime. Merci Yves !»
«Eine sehr lustige und freundliche reise durch Paris mit Robert und Célestine. Vielen vielen dank !! Wir kommen sehr gerne wieder !»
«Super !! Redécouverte de Paris, de petites rues et recoins que nous ne connaissions pas... Un super moment merci Vincent !»
«Très heureuse d'avoir fait ce parcours avec Kevin qui a été très sympa. C'est un bon chauffeur et un excellent guide. Expérience à revivre !!»
"Autant de 2CV à Paris que de gondoles à Venise !"
"4 roues sous 1 parapluie lie son image à celle de Paris"
"Bordeaux : il vous fait découvrir la ville comme jamais en 2CV !"
Follow our
news
Subscribe to our newsletter to receive our news