A vacation for Antoinette!
When Antoinette leaves to tan, it's doesn't just go halfway. A little...
Discover
A workshop for Achille, Cassandre and Cyprien
Organized on October 9th and 10th by the Paris Ile de France Regional Tourism Co...
Discover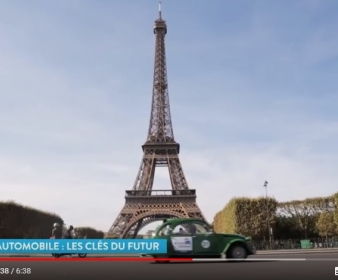 France 3 - Janvier 2018
A very beautiful report devoted to 4 roues sous 1 parapluie, in the economic m...
Discover
Our clients
They trust us
«Immense succès ! La troupe a adoré ;) On reviendra ! Quelle joie de voir tous les parisiens se retourner en souriant ;)»
«L'expérience a été extraordinaire. Ils en parlent encore ! Milles mercis à toute votre équipe !»
«Nous avons passé TOUTES et TOUS un merveilleux moment – les paniers repas étaient sympas – les chauffeurs étaient sympas – les escapades étaient sympas etc…- en tout cas, je n'hésiterai pas à parler de 4 roues sous un parapluie !!»
«Merci pour la qualité de la prestation fournie ! Par leur professionnalisme, leur écoute et leur disponibilité vos collaborateurs ont contribué à la réussite d'une manifestation de très grande qualité et à la notoriété de votre Enseigne !»
«Merci pour le très bon moment que nous avons passé ! Notre chauffeur était vraiment super,très communiquant, très impliqué et à l'écoute, nous avons eu le sourire pendant 1h30 !»
«I am pleased to let you know that the agents just loved the 2CV experience ! Thanks so much for organising…!!»
«I want to thank you for the event that we arranged for the leadership team of the company I work for. They had a great time! Thank you so much for your help, patience and kindness !»
"Autant de 2CV à Paris que de gondoles à Venise !"
"4 roues sous 1 parapluie lie son image à celle de Paris"
"Bordeaux : il vous fait découvrir la ville comme jamais en 2CV !"
Suivez notre
actualité
Inscrivez-vous à notre newsletter pour ne rien rater de nos actualités